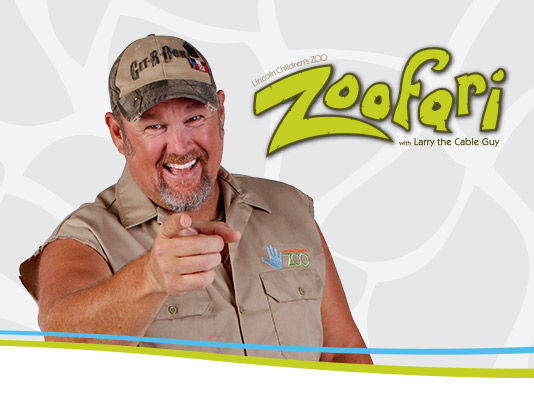 Zoofari with Larry the Cable Guy
A partnership with Lincoln Children's Zoo, the Git-R-Done Foundation
and Larry the Cable Guy
Zoofari with Larry the Cable Guy, will give hundreds of children's hospitals and rehabilitation centers across the nation the chance to bring the zoo to their patients. Zoofari with Larry the Cable Guy will feature a series of fun and educational videos for children who can't visit a zoo themselves. Filmed on location at Lincoln Children's Zoo, the Zoofari videos feature Larry the Cable Guy interacting with zookeepers and animals.
"Partnering with Lincoln Children's Zoo on Zoofari is a unique way to bring the experience of going to a Zoo to children who don't have the opportunity to visit themselves," said Larry the Cable Guy. "Through the Git-R-Done Foundation, we're proud to support children's hospitals and give kids this interactive, educational experience."
The videos will also be shown at Zoofari Stations inside the Zoo. These stations will enhance all guests' experiences - children and adults alike - by providing an in-depth learning experience for everyone. "The Zoofari videos will get all children more excited about animals, science and nature," explained president and CEO John Chapo. "Whether the children are in hospitals or can actually visit Lincoln Children's Zoo, the new Zoofari series will entertain and enhance the entire zoo experience for thousands of children."
Information for Children's Hospitals and Rehabilitation Centers

Zoofari with Larry the Cable Guy videos are available to any children's hospital and rehabilitation center free of charge. The videos are available on DVD.
Questions about Zoofari with Larry the Cable Guy call 402.475.6741 ext. 122 or email.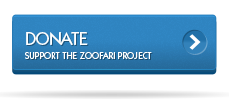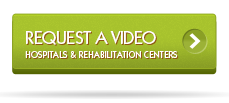 ---

---
Support for Zoofari with Larry the Cable Guy is provided by

About the Git R Done Foundation: The Git-R-Done Foundation is a 501(c)(3) non-profit organization created by Larry the Cable Guy and his wife, Cara, as a focal point for the family's philanthropy in 2009. The foundation's mission is to provide assistance to charitable organizations that have experienced hardships beyond their control, with an emphasis on children and veterans. The Git-R-Done Foundation has made numerous donations, including donations to the Arnold Palmer Foundation for the treatment and cure of hip dysplasia, Madonna Rehabilitation Hospital and Operation Homefront. For information or to donate, visit www.gitrdonefoundation.org
---