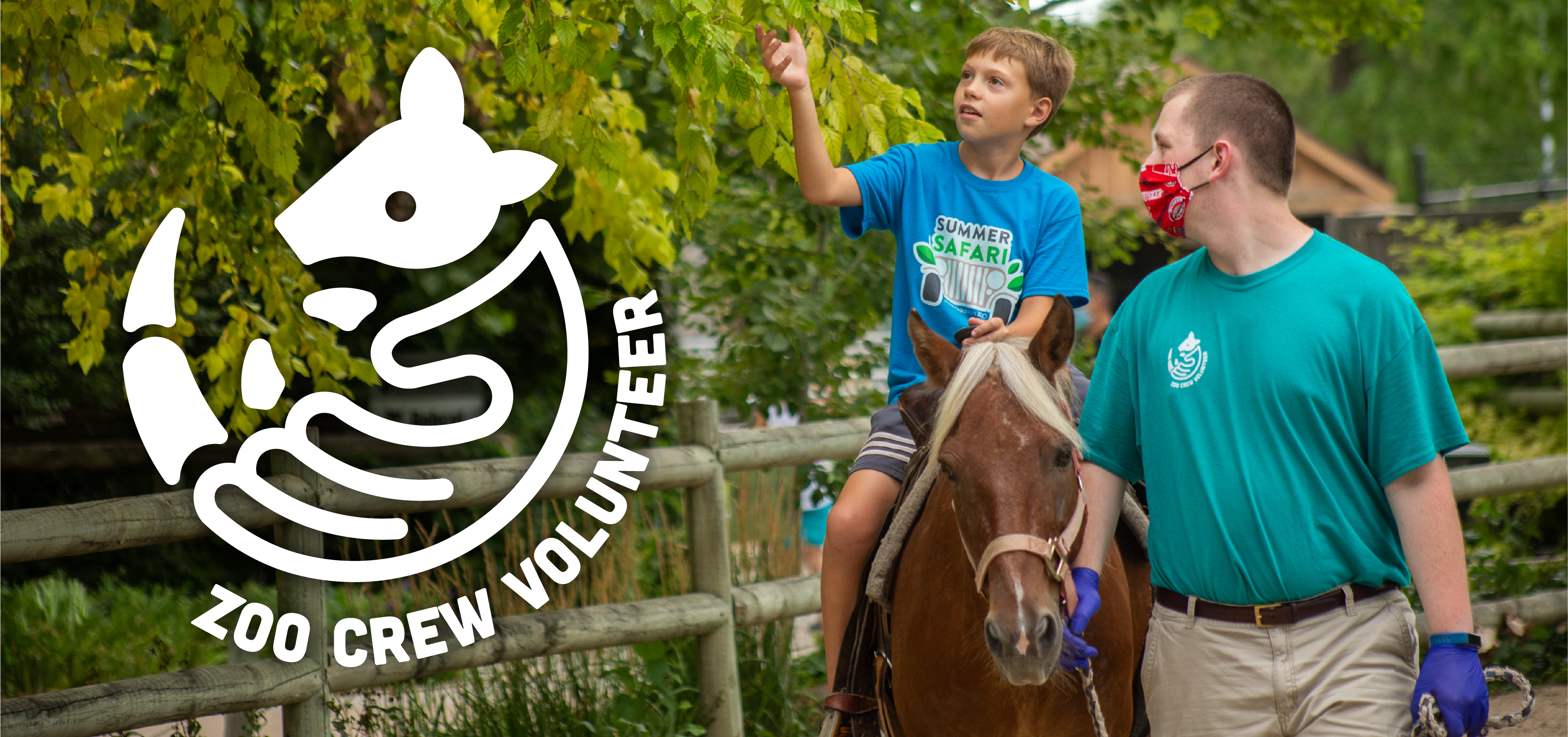 Go behind-the-scenes at Lincoln Children's Zoo by participating in Zoo Crew!
Ever wondered what it's like to work at the Zoo? Do you have an interest in Animal Science, Biology, or Education? Want to spend your summer volunteering at the Zoo? Then Zoo Crew is for you! Students entering grades 7 through 12 will gain important life and job skills through one of Nebraska's most successful youth volunteer programs.
Zoo Crew volunteers will:
• Work with animals big and small!
• Work in guest experience stations throughout the Zoo.
• Learn about animals up close with Animal Professionals.
Learn from Animal Professionals

Attend classes led by animal professionals including President & CEO, John Chapo, Lincoln Children's Zoo Zookeepers and more.

Perform Hands-On Animal Work

Administer health checks, prepare animal feedings, create animal enrichment, perform wellness exercises, complete animal evaluations and more!

Engage with Zoo Guests

Give Zoo guests up close animal experiences by showing animals in The Hive and Critter Outpost
---
---
Zoo Crew 2021
The 2021 Zoo Crew session will run from May 24 - October 30.  Opportunities for additional winter Zoo Crew hours will be announced at a later date. 
Zoo Crew training will take place on May 15. Training is required before your first scheduled shift.
View Frequently Asked Questions
View Sling Info
View Dress Code
| Zoo Crew Level | Grade Level (2021-2022 school year) | Price |
| --- | --- | --- |
| Zoo Crew Level 1 | Students entering 7th grade | $120 |
| Zoo Crew Level 2 | Students entering 8th grade | $120 |
| Zoo Crew Level 3 | Students entering 9th grade | $120 |
| Zoo Crew Level 4 | Students entering 10th grade | $120 |
| Zoo Crew Level 5 | Students entering 11th or 12th grade | FREE |
Registration for the 2021 Zoo Crew season has closed. 
Please join us again next season. If you have any questions please contact edstaff@lincolnzoo.org
---
Questions?
Contact the Education Team by emailing edstaff@lincolnzoo.org or calling 402.475.6741 ext. 130
Frequently Asked Questions
How old do I need to be?
Students entering 7th through 12th grade are eligible to join Zoo Crew.
When is required training?
Training will take place on May 15th.
What is the weekly time commitment?
• Level 1 work 6-7 weekdays, 4-5 weekend days, and 2 Wild Wednesday shifts from May 24 - October 30
• Level 2 work 11-12 weekdays, 4-5 weekend days, and 2 Wild Wednesday shifts from May 24 - October 30
• Level 3 work 11-12 weekdays, 4-5 weekend days, and 2 Wild Wednesday shifts from May 24 - October 30
• Level 4 work 11-12 weekdays, 4-5 weekend days, and 2 Wild Wednesday shifts from May 24 - October 30
• Level 5 work 11-12 weekdays, 4-5 weekend days, and 2 Wild Wednesday shifts from May 24 - October 30
What times does Zoo Crew work?
Check in is from 8am-8:20am. Pick up starts at 4:45pm and ends at 5pm.
What do Zoo Crew do for lunch?
Zoo need to either bring a lunch or money to purchase a lunch at the Café. Zoo Crew receive a 10% discount at the Café.
What if I cannot work my scheduled day?
Through our scheduling service, you can find a substitute from your appropriate Zoo Crew level to either take your shift or switch shifts with you. However, if you are unable to find a sub, you must alert the Education team by emailing edstaff@lincolnzoo.org
Is it possible to work more than my schedule days?
You are able to pick up any open shifts as they become available. There may also be opportunities to work rentals in the evening once the Zoo is closed or even through the winter months. We, however, cannot accommodate more than our schedule workers each day. Unless you have a scheduled shift, you should not be at the Zoo.
Can I work the same timed shifts as my friend?
We do our best to accommodate these requests but not guaranteed. We encourage you to request the same day if you want to work alongside friends.
What are some of the things Zoo gets to learn and participate in?
Zoo Crew assist with many aspects of what it takes to run a Zoo. They learn animal husbandry skills, animal handling, public speaking, cash handling, conservation, and more. With each level attained, you gain more skills and valuable on the job experience.
Can I earn volunteer credit for school?
Yes, Zoo Crew can be used as volunteer hours. Zoo Crew are responsible for providing the proper paperwork required per the school's individual requirements.
What am I allowed to bring to the Zoo?
Please bring a water bottle each day you are working. Backpacks will not be allowed in any of our animals areas. Lunch boxes are stored away at the start of your shift and returned after lunch for you to pick up before heading home. All personal belongings must be kept on your person or with your lunch box. The Zoo is not liable for any loss of these belongings. If a Zoo Crew has a health condition that requires them to carry certain items, this can be arranged.
What is the cell phone policy?
Zoo Crew are required to follow the same rules as our part time staff at the Zoo. All cell phones must be put away and not used when they are in guest areas. If this becomes a problem, a cell phone may be confiscated until the end of the day by staff members. If it the Zoo Crew member's responsibility to collect their phone at the end of the day when checking out. Continued problems could result if dismal from the program.
---
Sling Information
Each Zoo Crew member will be a sent an invite to our online scheduling service Sling. This can be downloaded on any smart phone as an app or accessed by computer at login.getsling.com 
It is very important that each Zoo Crew have a different email from their sibling for Sling. This will make it easier for you to find the right Level Zoo Crew for subs or for your Zoo Crew to pick up shifts in the right Level.  
Each Zoo Crew will be assigned a position based on their Zoo Crew level. 
When you get your invite, you will notice that on your Zoo Crew's name will also have the day they are assigned to work. The assigned days are M1 (Monday Group 1), M2 (Monday Group 2), T1 (Tuesday Group 1), T2 (Tuesday Group 2), W1 (Wednesday Group 1), W2 (Wednesday Group 2), R1 (Thursday Group 1), R2 (Thursday Group 2), F1 (Friday Group 1) and F2 (Friday Group 2). Please do not change your Zoo Crew's name. This allows for quick and easy scheduling for our Education team. 
If you are assigned a shift that you are unable to work, it is your job to find a substitute based on the correct Zoo Crew Level. To find a sub, you can access the message boards. Each Level of Zoo Crew has a message board that you can post a message requesting a sub or seeing if there are other shifts available. If you are still unable to find a sub, send a message to one of the managers on the Sling or email edstaff@lincolnzoo.org. 
Rentals or Events will pop up through the season. This is an excellent opportunity for you to pick up extra shifts and also gain experience in areas you might not be typically working in based on your Level. When this happens, it will be a first come first serve for the shifts. There will only be so many shifts for each Rental or Event. 
---
Dress Code
Zoo Crew members are required to wear a Zoo provided t-shirt, khaki shorts/pants, brown or black belt, closed toed tennis shoes or work boots and a name tag.
Only natural hair colors and styles are permitted. Extreme coloring of the hair is not permitted.
Jewelry is not permitted with the exception of wrist watches. Piercings are strongly discouraged.
When it is cold you are required to wear Zoo Crew hooded sweatshirts. You may also wear Zoo Crew hats. (Hooded sweatshirts and additional items will be available for purchased). Please dress appropriately for the weather.
If a zoo crew is not in appropriate dress, they will be calling home for them to obtain the appropriate gear.