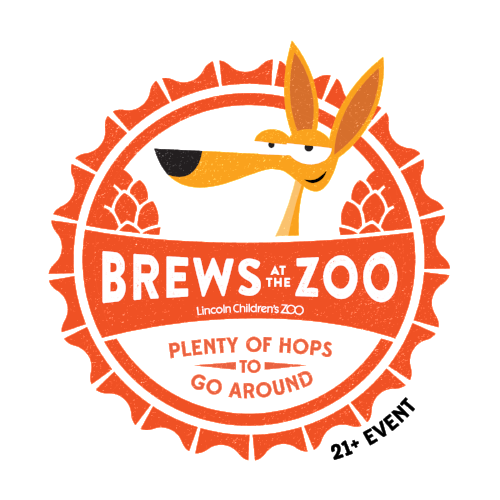 Brews at the Zoo
Friday, July 6, 2018 | 6 - 11 p.m.
SOLD OUT
Featuring The Brad Ramp Band
Saturday, August 11, 2018 | 6 - 11 p.m.
SOLD OUT
Featuring AM/FM
It's time for adults 21 and over to enjoy some tasty craft beers and amazing music at the Zoo! This year's event features craft beers from Zipline Brewery, Empyrean Ales, Thunderhead Brewing, Lucky Bucket Brewing and more! Plus, beer brats and burgers will be available for purchase during the event.
Purchase Tickets
General Ticket | $35
Ticket includes
After-hours access to the Zoo for the evening
Live concert
Three drinks (your choice of beer, wine or soda)
Free games for a chance to win prizes
Meal Deals | $6
Purchase in advance and save! Meal tickets purchased at the event will be $7.
Ticket includes your choice of one of the following options
Grilled burger
Classic Bavarian brat
Dirt Nap chicken apricot sausage
U-Stop $10 OFF Coupon
Stop by your local U-Stop to pick up a Brews at the Zoo coupon for $10 off general tickets!
Tickets are limited and may sell out. Advanced purchase is highly recommended.
SOLD OUT
Follow the official Brews at the Zoo Facebook page or subscribe to our newsletter to be the first to know when tickets go on sale!
About the Event
NEW! Our first ever beerless beer pong games will be at Brews at the Zoo! Play a free game of pong for your chance to win great door prizes from Lincoln Children's Zoo, local breweries, Mystic Rhoads Productions and more. Thank you to Johanna Rhoads with Remax Realty for hosting these games.
Featured Brews & Wine*
Empyrean Ales Featuring Zookeeper IPA
Thunderhead Brewing
Lucky Bucket Brewing
Zipline Brewery
Glacial Till Vineyard & Winery
White Elm Brewing
*Featured beer & wine subject to change.
Featured Eats
Grilled burgers
Top your burger with seasonings or sauces from Mystic Rhoads Productions for a Jamaican kick! Vegetarian options also available upon request.
Classic Bavarian brats
by local artisan sausage creators Bangarang Eats
Grab your Lederhosen, and get ready for the best bratwurst this side of the Rhine. This pork sausage is packed with 700 years of German brat-making tradition. Served on a pretzel bun with a side of Miss Vickie's kettle chips.
Dirt Nap chicken apricot sausage
by local artisan sausage creators Bangarang Eats
This Jamaican-inspired chicken sausage features the delightful flavors of Dirt Nap hot sauce along with mango, herbs, spices, and a hint of habanero. A perfect blend of of savory and sweet with just a little heat! Served on a pretzel bun with a side of Miss Vickie's kettle chips.
Brat, burger and sausage seasonings and sauces provided by Mystic Rhoads Productions

---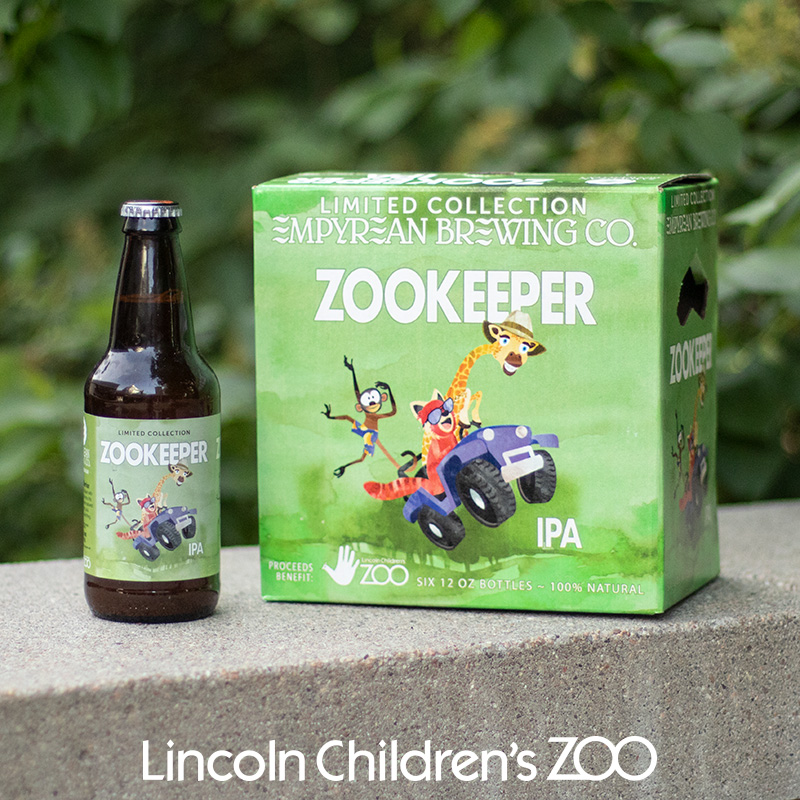 Zookeeper IPA by Empyrean Ales
We are proud to announce another great community partnership supporting our expansion. Empyrean Ales have created a special brew called Zookeeper IPA that is available now! $1 from every case of this seasonal offering will support the Zoo's expansion and help bring giraffes, tigers and spider monkeys to Lincoln. Zookeeper IPA is available at stores and restaurants across Lincoln.
Zookeeper IPA
Untamed, tart citrus flavor with tropical rainforest aroma, this sessionable IPA is sweet-natured with an animalistic soul. Inside all of us is a wild thing.
Availability:
Limited, June – August 2018
Specs:
5.5% Alc/Vol
58 IBUs
13.5 OG
Hops:
Citra Simcoe
Malts:
2-Ros, Aromatic, Extra Dark crystal
---
Brews FAQ
Advanced ticket purchase is recommended. Tickets for this fundraising event are limited and may sell out.
Guests must present Photo ID upon arrival and must be 21 to enter. 
Must present confirmation ticket (can be printed from confirmation email or shown on phone).
Tailgating is not allowed in the parking lots.
This event is held rain or shine.
 
Frequently Asked Questions
Can I bring in my child or baby to Brews at the Zoo?   No, Brews at the Zoo is a 21 and older event. Valid photo I.D. is required. 
What is the price for Brews at the Zoo?   $35 (includes three drink tickets). $10 off coupons can be found at Lincoln area U-Stops
Will the animals be out the entire night?   Yes! Tickets include after-hours access to the entire Zoo for the evening.
Will there be food?   Yes, burgers, brats and sausages will be available at the Safari Cafe.
What beers are available?   Empyrean Ales, Thunderhead Brewing, Zipline, Lucky Bucket Brewing and more!
What is the price for beer?   Each guest receives three beer vouchers with their ticket. Extra beer tickets will be available during the event at the Safari Cafe for $6. 
Can I bring my own chairs?  No, some seating is available around the concert area.
No Monkey Business Allowed
Disorderly conduct will result in your removal from the event. This includes trespassing into restricted areas, the feeding of animals, teasing or yelling at the animals, and dumping of liquids in a non-designated area.
Respect all fences and boundaries. They are there for your safety and the safety of the animals.
This is a non-smoking event. A designated smoking area is located outside of the entrance gates.
Bars close at 10:45.
No refunds. Event is rain or shine.