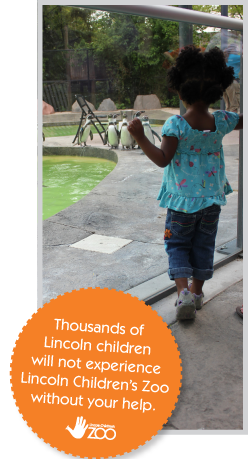 For 56 years, Lincoln Children's Zoo has been a place for children to experience learning firsthand. In order to ensure access for all members of the Lincoln community, regardless of their financial circumstances, the Zoo created the Children at the Zoo (CATZ) program.
Each year Lincoln Children's Zoo partners with dozens of local human service agencies and schools to provide free admission tickets to those most in need in our community. The number of families being impacted by CATZ is growing each year. When it first began, 6,000 admission passes were distributed. Last year over 20,000 tickets were given.
Lincoln Children's Zoo is a 501(c)3 non-profit and its operations are funded through earned revenue and charitable giving; the Zoo does not receive local, state or federal funding for its operations. We would welcome your support of children and families in need!
With gratitude,

John Chapo
President Emeritus