Introducing Wildlife Walk
The health and safety of our community, staff and animals is of the utmost concern here at Lincoln Children's Zoo. During the last few weeks our team has been diligently preparing for the day we can safely welcome guests back. We are excited to take the first step towards that future as we introduce Wildlife Walk. This adventure will take guests on a one-way route throughout the Zoo to see many beloved animals.
While we are thrilled to open the gates of the Zoo once again, we do so with a sense of responsibility and caution. Tickets for Wildlife Walk must be purchased in advance and will be for timed-entry. Tickets will not be available for purchase at the gates. A limited number of guests will be admitted into the Zoo every 15 minutes to allow for adequate space to safely explore the Zoo.
We understand that things may feel a bit different right now but here at the Zoo we hope you will find a respite from it all and a bit of comfort rediscovering the place you know and love. The incredible connection between humans and animals is one that can not easily be broken. Although it's been some time since we've been together, we've saved a place for you, here at your Lincoln Children's Zoo.
The Zoo will be open for Wildlife Walk beginning June 1st.
Tickets for Wildlife Walk will be available for non-members to purchase beginning May 29th.  
During this time, the Zoo will offer extended hours from 9 am to 7 pm so that guests may have adequate time to explore the Zoo.
The last available ticket reservations will be available at 5:45 each day.  
During this time the Zoo will not accept cash, credit and debit cards only.

---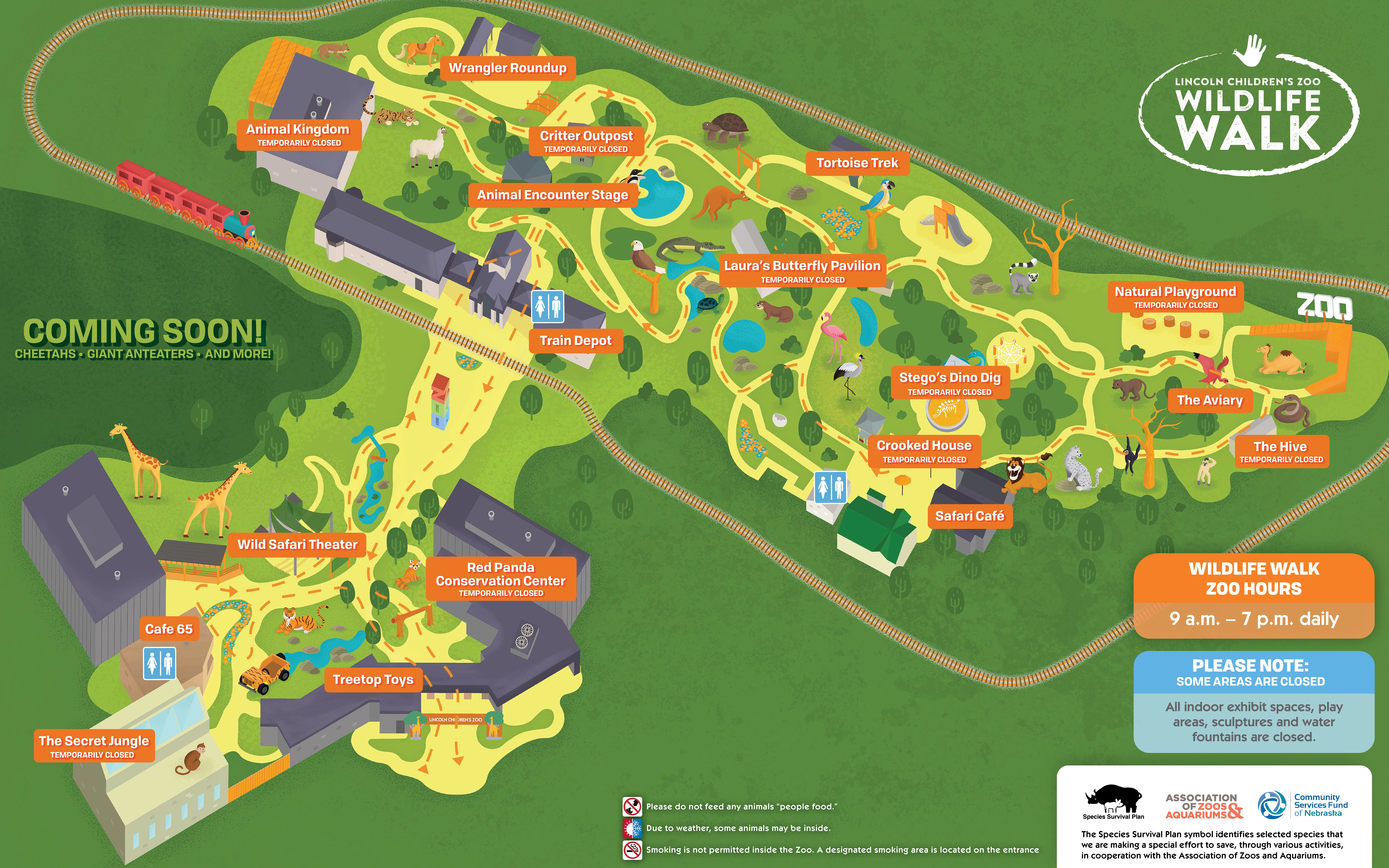 Safely Visiting the Zoo
Social distancing among guests and Zoo Staff is paramount and we will remain dedicated to the highest levels of health and safety
The Zoo will have visual reminders and barriers to ensure guests are maintaining a safe social distance along the pathway
Guests are required to practice safe social distancing, remaining 6' apart from others
Guests will not have access to high-touch attractions/areas of the Zoo. Attractions such as play areas, sculptures, and water fountains will be closed
All indoor animal areas such as the Secret Jungle, The Animal Kingdom Building, and The Hive will remain closed. Indoor seating at Cafe 65 will be inaccessible
Attendance is capped each day and staggered by 15 minute increments to limit the total number of guests in the Zoo at one time to 25% of usual capacity
Group sizes are limited to six (6) individuals
When arriving at the Zoo, please do not congregate at the entrance. Remain in your car until your scheduled time.
All Zoo staff will be required to wear masks and gloves when interacting with guests
All Zoo staff will have their temperatures checked before beginning work
Free hand sanitizer stations and hand washing opportunities are positioned throughout the Zoo
Zoo staff will be consistently cleaning high-touch surfaces such as benches, tables, chairs and more
The Zoo will only accept credit and debit card payments at this time, no cash.
If a guest feels sick before their reservation, we ask that they not visit the Zoo. Please contact us to reschedule or refund your purchase
Guests over the age of 60, anyone with an underlying health condition or any person at a higher risk from COVID-19, is encouraged to stay at home and not come to the Zoo during this time
An inherent risk of exposure to COVID-19 exists in any public place where people are present. COVID-19 is an extremely contagious disease that can lead to severe illness and death. By visiting the Lincoln Children's Zoo you voluntarily assume all risks related to exposure to COVID-19
---
Frequently Asked Questions
Are reservations required for the Wildlife Walk?
Reservations are required for both members and nonmembers.
General admission and membership reservations are limited each day.
Members may reserve a time slot for themselves and up to as many guests allotted with their membership.
No more than (6) tickets may be purchased.
Members will need their photo ID and reservation confirmation (printed or on device) to check in.
Guests with general admission will need their reservation confirmation (printed or on device) to check in.
Guests must arrive at their reserved time slot to ensure capacity is not exceeded.
Where can I find my membership information? 
BEST METHOD: On the back of your card - you may use a previous year's membership card, membership numbers remain the same.
If you have previously logged in to our website with your membership, it is attached to your account.
If you purchased your membership online, you should have an emailed receipt.
If you are still having trouble, please email bwhitmore@lincolnzoo.org
Do kids under two also need a reservation?
Children under two years old are free, but still need a reservation and will be counted in the (6) individuals per group limit.
What if I make a reservation and discover I'm unable to attend at the date/time I selected?
Reservations may be canceled or refunded up to the reservation time but not after.
What can I see at the Wildlife Walk?
The Wildlife Walk is a one-way trail throughout the Zoo. Visit Red Pandas, Giraffes, Tigers, Penguins, Snow Leopards, North American River Otters, and much more!
Is food available for purchase?
Food and beverages will be available for purchase at Cafe 65 through a contact-free app. Popcorn and drinks will be available for purchase via walk-up sale at Safari Cafe. Please note that at this time the Zoo will only accept debit and credit cards, no cash.
What should I bring with me?
Water - Water will be available for purchase, but water fountains will be closed.
Snacks – Food will be available for purchase, and outside food is also allowed.
Sunscreen – Wildlife Walk is completely outdoors.
Mask and gloves – Guests are encouraged to wear masks.
---
Wildlife Walk Admission Prices
Admission Tickets
Ages
Prices
Zoo Members
All Ages
FREE
See Membership Options
Adults
13 - 61
$13.95
Children
2 - 12
$11.95
Seniors
62 & over
$11.95
Kids 1 & under


FREE
| Ride Tickets | Prices |
| --- | --- |
| 2 Giraffe Feed Bundles | $5 |
| Rentals | Prices |
| --- | --- |
| Stroller/Wagon | $5 |
| Wheelchair | $5 |