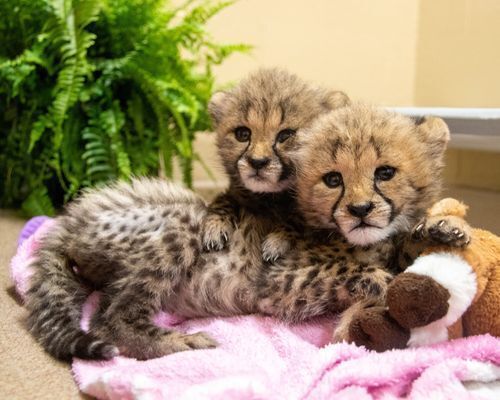 Lincoln Children's Zoo Welcomes Two Cheetah Cubs
There are two new residents at Lincoln Children's Zoo. Two female cheetah cubs arrived in Lincoln on June 19, 2023, at six weeks old.
"We are excited to welcome these cubs to Lincoln Children's Zoo and to our ambassador team. Ambassador animals are very important, they're a great way to get people excited and engaged about vulnerable species such as cheetahs, conservation, and wildlife in general," said Evan Killeen, Lincoln Children's Zoo CEO.
The cubs were born at Wildlife Safari in Oregon on May 8, 2023. The Association of Zoos and Aquariums' Cheetah Species Survival Plan (SSP) identified Lincoln Children's Zoo as a great fit for these cubs to be ambassadors for their species.
"As a breeding center we focus on helping to build genetics for the population. Every now and then when a litter of lower genetic ranking is born, we focus on those animals' becoming ambassadors," said Sarah Huse, Wildlife Safari carnivore supervisor.
Cheetahs are a vulnerable species, meaning they face a high risk of extinction. Less than 7,100 cheetahs remain in the wild, and that number continues to decline. These cubs will become ambassadors for their species, helping to educate the public and engage with them about wildlife conservation through daily encounters at the Cheetah Chase Theater.
The animal care team started training with the cubs when they arrived. Currently the goal is basic manners, desensitization to audio and visual surroundings, and crating utilizing positive reinforcement. The Zoo will continue to develop these behaviors as well as incorporate behaviors that will eventually help them succeed in the cheetah run.
"Training the cheetah cubs to participate in the cheetah run is very enriching for them as it would be natural for their mom in the wild to be teaching them how to chase and catch prey," said Lissa McCaffree, Lincoln Children's Zoo General Curator.
Zookeepers took the cubs outside for the first time on June 27th. They started with access to a small outdoor area and will gradually increase the space as they get used to their surroundings and so they can build muscle and endurance. The cubs are provided with other types of enrichment daily. In their habitat they have tall grass, logs and small bushes. Right now, they love to chase each other and tumble through the plants in their habitat.
The cubs are currently behind-the-scenes as they become acquainted with their new home. Guests will first be able to see them on Tuesday, July 11th at 11 a.m. at the Cheetah Chase Theater. After July 11th, the cubs will be at the Cheetah Chase Theater daily at 11 a.m. and guests will be able to watch as keepers help the cubs acclimate to their new surroundings and participate in daily training.
The cubs are currently living in the habitat on the historic side of the Zoo, next to the colobus monkeys. For the time-being, guests will only be able to see the cubs at the Cheetah Chase Theater. They will eventually be visible in their habitat for short periods of time to start, with increasing time outside as they grow.
Lincoln Children's Zoo will be asking the community for help in the future with naming the two cubs. Keep an eye out on the Zoo's Facebook page to receive updates on how the cubs are doing, and for the opportunity to provide name suggestions for the new residents.