Southern three-banded armadillo born at Lincoln Children's Zoo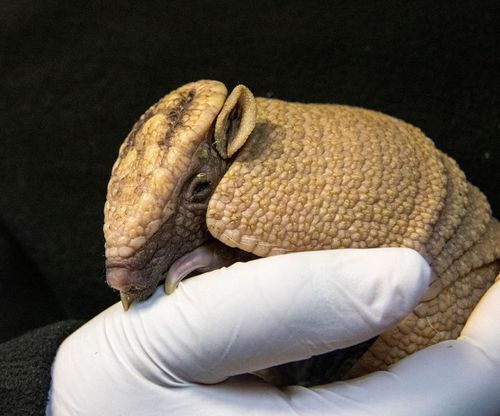 Lincoln Children's Zoo is excited to announce the birth of a male southern three-banded armadillo named Jimmi. Jimmi was born on February 1, 2023, to mom, Fiz, and dad, Fez.
Jimmi is Fiz and Fez's third baby, he comes after two other males that were also born at Lincoln Children's Zoo. At two days old, Jimmi weighed 103 grams and he now weighs a little over one pound.
"Our keepers do an amazing job caring for our animals and creating a safe and nurturing environment for them to give birth and look after their newborns in," said Evan Killeen, Lincoln Children's Zoo CEO. "Both mom and baby are healthy and thriving and Jimmi is meeting every growth milestone."
The gestation period for southern three-banded armadillo's is around 120 days and they typically do not start to show until they are about two weeks away from giving birth. Zookeepers provided Fiz with a nesting box and nesting materials such as wood wool, shredded paper and shredded cardboard, and Fiz packed it all into the nest box. Before giving birth, Fiz usually destroys and remakes the nest two or three times.
For the first month, Jimmi stayed in the nest box with mom. After one month he started taking strolls out at night, however mom will sometimes herd him back inside the nest box and try to barricade the entrance shut to make it difficult for him to leave again.
The Lincoln Children's Zoo is part of the Association of Zoos and Aquariums' Species Survival Plan Program. The program develops a Breeding and Transfer Plan which identifies population goals and recommendations to manage a genetically diverse, demographically varied, and biologically sound population. The plan's coordinators approved breeding recommendations for the Zoo's armadillos Fiz and Fez.
Fiz and Jimmi are not currently on exhibit. They will go on exhibit in the Animal Kingdom Building once Jimmi is completely weaned, which Zookeepers estimate will be toward the end of April to early May.