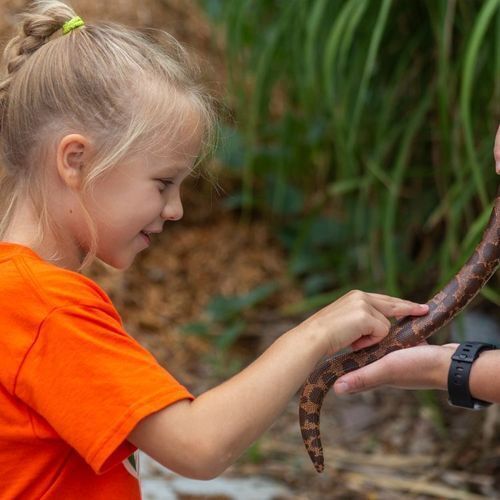 April Pop-Up Zoo Classes
Our April Pop-up Zoo Classes are two hour classes that take place at the Zoo. Students will have the opportunity to explore the Zoo and learn directly from Zoo professional. Zoo Classes offers a unique and engaging experience to connect students with wildlife and nature. Each Zoo Class will have a unique educational topic that includes interactive learning opportunities and activities. 
Zoo Class Times:
9:00 - 11:00 am, 10:00 am - 12:00 pm or 1:00 - 3:00 pm  
Cost: $45 members, $55 nonmembers 
Max registration is 10 students per class.
What's included:
Zoo admission, animal encounter, STEM learning activities and snack

3-5 Year Olds
| DATE | TIME | TOPIC |
| --- | --- | --- |
| April 25 SOLD OUT | 10:00 am - 12:00 pm | Penguins Pals: Why did the two penguins jump when they first met???.....They were trying to break the ice!! Learn more about penguin behaviors and how their permanent tuxedo helps them survive. |
| April 27 | 1:00 - 3:00 pm | Penguins Pals: Why did the two penguins jump when they first met???.....They were trying to break the ice!! Learn more about penguin behaviors and how their permanent tuxedo helps them survive. |
4-6 Year Olds
| DATE | TIME | TOPIC |
| --- | --- | --- |
| April 25 SOLD OUT | 1:00 - 3:00 pm | Zooborns: How big is a newborn tree kangaroo?? How tall is a baby giraffe? Find out these answers and more as we learn about animal babies and their families, then explore the Zoo to see if we can spot any new arrivals. |
| April 28 SOLD OUT | 10:00 am - 12:00 pm | Penguins Pals: Why did the two penguins jump when they first met???.....They were trying to break the ice!! Learn more about penguin behaviors and how their permanent tuxedo helps them survive. |
7-9 Year Olds
| DATE | TIME | TOPIC |
| --- | --- | --- |
| April 27 SOLD OUT | 9:00 - 11:00 am | Zoo Math: Discover the ways the Zoo uses math in their day-to-day operations. Students will use math skills to calculate all kinds of real-world scenarios that Zoo's face every day! |
| April 28 | 1:00 - 3:00 pm | Hunter or Hunted: Eyes on the side run and hide, eyes in the front, like to hunt! Why are some animal hunters while others are hunted? Discover how different animals interact with one another and what it means to be predator or prey. |