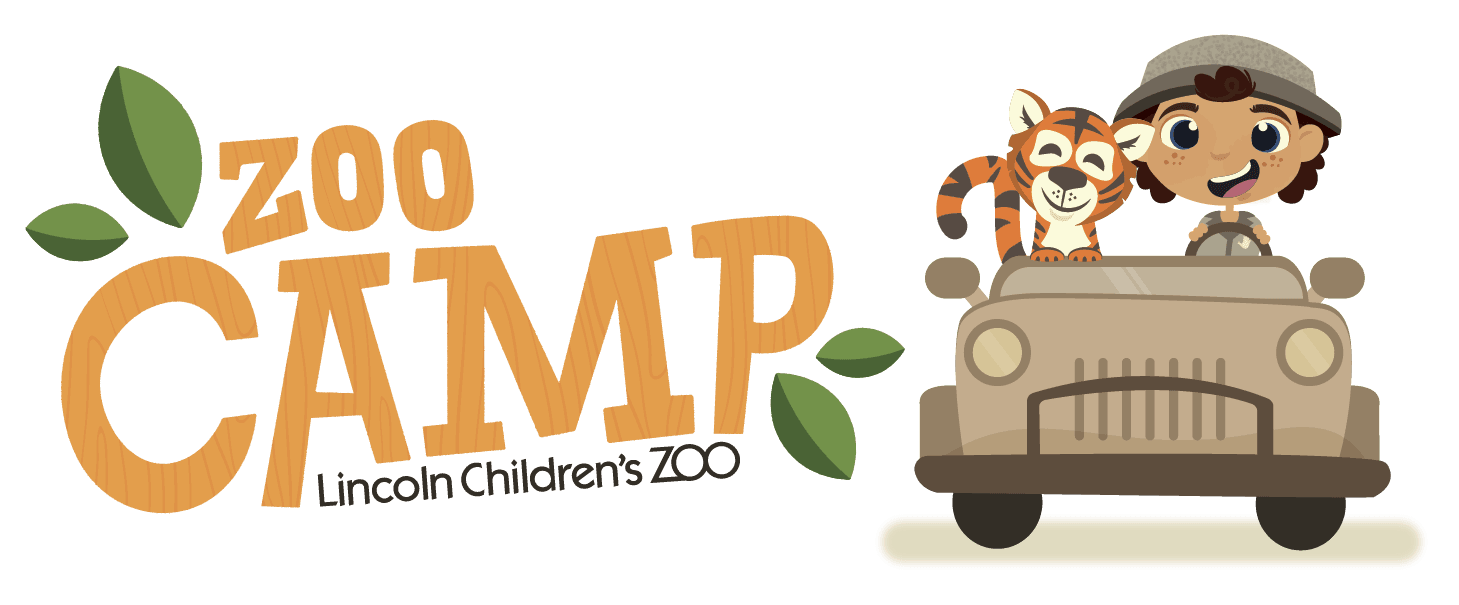 Summer Zoo Camp 
Summer Safari is back at Lincoln Children's Zoo! Campers will have the opportunity to go behind-the-scenes, talk with zoo professionals, and meet some of their favorite animal friends. Every day is a new adventure that offers a unique and engaging experience to connect campers with wildlife and nature that will leave them inspired to care for the natural world.  Each camp includes interactive learning opportunities and activities connected to the week's theme.
Zoo Camp Early Registration for Zoo Members and Returning Campers • February 8th
Zoo Camp Registration Opens to the Public • February 14th
Join our email newsletter to be notified when Zoo Camp registration opens. 
See more photos at our Zoo Camp Facebook Group!
---
Camps are from 8:30 a.m. to 4:30 p.m. each day.
Check-in: 8:15 to 8:30 a.m.
Check-out: 4:15 to 4:30 p.m.
How to register:
Choose appropriate age group below
Select a session to attend
Click orange register button to complete registration
Zoo Members receive a discount on camp registration. To receive your member discount:
Select your chosen camp session(s) and proceed to checkout. (Camp sessions are listed as non-member price, member discount will be applied during checkout.) 
During checkout, click the "I'm a member" box and enter your member number.
Your member number can be found on the back of your Zoo membership card.
Last name, email, and member number must match what is listed on your membership account. 
Please email contact@lincolnzoo.org with any membership questions.
Camp Age Groups
4 - 5 Year-Olds
6 - 7 Year-Olds
8 - 9 Year-Olds
10 - 12 Year-Olds
Camp Policy
View Camp Policies
To contact the Education Team
Email or call 402.475.6741 ext. 130 
---
Health & Safety Procedures
DAILY HEALTH PRACTICES
If your child is not feeling well, please keep them home. Children may be sent home if they begin to show signs or symptoms of the flu, Covid or any viral infection or communicable disease. Campers will be allowed to return to camp once they are free of symptoms for 24 hours, without fever-reducing medicine. Classrooms and areas of high touch will be sanitized before, during and after camp.  
DROP OFF & PICK UP PROCEDURES
Pick up and drop off will be located near the main entrance of the Zoo in the FNBO Green Space. Camp instructors will be waiting outside for campers to arrive.  Please look for your campers' age-appropriate group. Camp begins promptly at 8:30 am and ends at 4:30 pm. You may not drop off your child prior to 8:15 am. Please have your ID ready when picking up.  For your safety children will only be released to adults listed on the child's approved adult pick up list. 
---
5-Day Camps • $255 Members | $296 Non-Members
4-Day Camps • $204 Members | $237 Non-Members
3-Day Camps • $153 Members | $178 Non-Members
| CAMP | DATES | THEME |
| --- | --- | --- |
| Week 1 • Group 1 | May 30 - June 2 | Spend the week focusing on baby animals, camouflage, adaptations, habitats and animal diets in this week-long camp.   |
| Week 1 • Group 2 | May 30 - June 2 | Spend the week focusing on baby animals, camouflage, adaptations, habitats and animal diets in this week-long camp.  |
| Week 2 • Group 1 | June 5 - 9 | Have you ever met a Matschie tree kangaroo or a Humboldt penguin? This camp will take a look at the unique animals that call the Lincoln Children's Zoo home.  Campers will help create enrichment for their new friends and even watch them enjoy it at the end of this fun and creative week!  |
| Week 2 • Group 2 | June 5 - 9 | Have you ever met a Matschie tree kangaroo or a Humboldt penguin? This camp will take a look at the unique animals that call the Lincoln Children's Zoo home.  Campers will help create enrichment for their new friends and even watch them enjoy it at the end of this fun and creative week!  |
| Week 3 • Group 2 | June 12 - 16 | Campers will center their study around animals across the Americas! Get up close and personal with alligators, eagles, bobcats, otters, armadillos and more in this week long adventure through North and South America.   |
| Week 3 • Group 2 | June 12 - 16 | Campers will center their study around animals across the Americas! Get up close and personal with alligators, eagles, bobcats, otters, armadillos and more in this week long adventure through North and South America. |
| Week 4 • Group 1 | June 19 - 23 | Spend the week focusing on baby animals, camouflage, adaptations, habitats and animal diets in this week-long camp.  |
| Week 4 • Group 2 | June 19 - 23 | Spend the week focusing on baby animals, camouflage, adaptations, habitats and animal diets in this week-long camp.  |
| Week 5 • Group 1 | June 26 - 30 | Have you ever met a Matschie tree kangaroo or a Humboldt penguin? This camp will take a look at the unique animals that call the Lincoln Children's Zoo home.  Campers will help create enrichment for their new friends and even watch them enjoy it at the end of this fun and creative week!  |
| Week 5 • Group 2 | June 26 - 30 | Have you ever met a Matschie tree kangaroo or a Humboldt penguin? This camp will take a look at the unique animals that call the Lincoln Children's Zoo home.  Campers will help create enrichment for their new friends and even watch them enjoy it at the end of this fun and creative week!  |
| Week 6 • Group 1 | July 5 - 7 | Campers will center their study around animals across the Americas! Get up close and personal with alligators, eagles, bobcats, otters, armadillos and more in this week long adventure through North and South America.   |
| Week 6 • Group 2 | July 5 - 7 | Campers will center their study around animals across the Americas! Get up close and personal with alligators, eagles, bobcats, otters, armadillos and more in this week long adventure through North and South America.   |
| Week 7 • Group 1 | July 10 - 14 | Spend the week focusing on baby animals, camouflage, adaptations, habitats and animal diets in this week-long camp.  |
| Week 7 • Group 2 | July 10 - 14 | Spend the week focusing on baby animals, camouflage, adaptations, habitats and animal diets in this week-long camp.  |
| Week 8 • Group 1 | July 17 - 21 | Have you ever met a Matschie tree kangaroo or a Humboldt penguin? This camp will take a look at the unique animals that call the Lincoln Children's Zoo home.  Campers will help create enrichment for their new friends and even watch them enjoy it at the end of this fun and creative week!  |
| Week 8 • Group 2 | July 17 - 21 | Have you ever met a Matschie tree kangaroo or a Humboldt penguin? This camp will take a look at the unique animals that call the Lincoln Children's Zoo home.  Campers will help create enrichment for their new friends and even watch them enjoy it at the end of this fun and creative week!  |
| Week 9 • Group 1 | July 24 - 28 | Campers will center their study around animals across the Americas! Get up close and personal with alligators, eagles, bobcats, otters, armadillos and more in this week long adventure through North and South America.   |
| Week 9 • Group 2 | July 24 - 28 | Campers will center their study around animals across the Americas! Get up close and personal with alligators, eagles, bobcats, otters, armadillos and more in this week long adventure through North and South America.   |
| Week 10 • Group 1 | July 31 - Aug. 4 | Spend the week focusing on baby animals, camouflage, adaptations, habitats and animal diets in this week-long camp.  |
| Week 10 • Group 2 | July 31 - Aug. 4 | Spend the week focusing on baby animals, camouflage, adaptations, habitats and animal diets in this week-long camp.  |
---
5-Day Camps • $255 Members | $296 Non-Members
4-Day Camps • $204 Members | $237 Non-Members
3-Day Camps • $153 Members | $178 Non-Members
| CAMP | DATE | THEME |
| --- | --- | --- |
| Week 1 • Group 1 | May 30 - June 2 | Campers will center their study around animals across the Americas! Get up close and personal with alligators, eagles, bobcats, otters, armadillos and more in this week long adventure through North and South America.   |
| Week 1 • Group 2 | May 30 - June 2 | Campers will center their study around animals across the Americas! Get up close and personal with alligators, eagles, bobcats, otters, armadillos and more in this week long adventure through North and South America.   |
| Week 2 • Group 1 | June 5 - 9 | Spend the week focusing on baby animals, camouflage, adaptations, habitats and animal diets in this week long camp.   |
| Week 2 • Group 2 | June 5 - 9 | Spend the week focusing on baby animals, camouflage, adaptations, habitats and animal diets in this week long camp.   |
| Week 3 • Group 1 | June 12 - 16 | Have you ever met a Matschie tree kangaroo or a Humboldt penguin? This camp will take a look at the unique animals that call the Lincoln Children's Zoo home.  Campers will help create enrichment for their new friends and even watch them enjoy it at the end of this fun and creative week!  |
| Week 3 • Group 2 | June 12 - 16 | Have you ever met a Matschie tree kangaroo or a Humboldt penguin? This camp will take a look at the unique animals that call the Lincoln Children's Zoo home.  Campers will help create enrichment for their new friends and even watch them enjoy it at the end of this fun and creative week!  |
| Week 4 • Group 1 | June 19 - 23 | Campers will center their study around animals across the Americas! Get up close and personal with alligators, eagles, bobcats, otters, armadillos and more in this week long adventure through North and South America.   |
| Week 4 • Group 2 | June 19 - 23 | Campers will center their study around animals across the Americas! Get up close and personal with alligators, eagles, bobcats, otters, armadillos and more in this week long adventure through North and South America.   |
| Week 5 • Group 1 | June 25 - 30 | Spend the week focusing on baby animals, camouflage, adaptations, habitats and animal diets in this week long camp. |
| Week 5 • Group 2 | June 25 - 30 | Spend the week focusing on baby animals, camouflage, adaptations, habitats and animal diets in this week long camp.   |
| Week 6 • Group 1 | July 5 - 7 | Have you ever met a Matschie tree kangaroo or a Humboldt penguin? This camp will take a look at the unique animals that call the Lincoln Children's Zoo home.  Campers will help create enrichment for their new friends and even watch them enjoy it at the end of this fun and creative week!  |
| Week 6 • Group 1 | July 5 - 7 | Have you ever met a Matschie tree kangaroo or a Humboldt penguin? This camp will take a look at the unique animals that call the Lincoln Children's Zoo home.  Campers will help create enrichment for their new friends and even watch them enjoy it at the end of this fun and creative week!  |
| Week 7 • Group 1 | July 10 - 14 | Campers will center their study around animals across the Americas! Get up close and personal with alligators, eagles, bobcats, otters, armadillos and more in this week long adventure through North and South America.   |
| Week 7 • Group 2 | July 10 -14 | Campers will center their study around animals across the Americas! Get up close and personal with alligators, eagles, bobcats, otters, armadillos and more in this week long adventure through North and South America.   |
| Week 8 • Group 1 | July 17 - 21 | Spend the week focusing on baby animals, camouflage, adaptations, habitats and animal diets in this week long camp.   |
| Week 8 • Group 2 | July 17 - 21 | Spend the week focusing on baby animals, camouflage, adaptations, habitats and animal diets in this week long camp.   |
| Week 9 • Group 1 | July 24 - 28 | Have you ever met a Matschie tree kangaroo or a Humboldt penguin? This camp will take a look at the unique animals that call the Lincoln Children's Zoo home.  Campers will help create enrichment for their new friends and even watch them enjoy it at the end of this fun and creative week!  |
| Week 9 • Group 2 | July 24 - 28 | Have you ever met a Matschie tree kangaroo or a Humboldt penguin? This camp will take a look at the unique animals that call the Lincoln Children's Zoo home.  Campers will help create enrichment for their new friends and even watch them enjoy it at the end of this fun and creative week!  |
| Week 10 • Group 1 | July 31 - Aug. 4 | Campers will center their study around animals across the Americas! Get up close and personal with alligators, eagles, bobcats, otters, armadillos and more in this week long adventure through North and South America.   |
| Week 10 • Group 2 | July 31 - Aug. 4 | Campers will center their study around animals across the Americas! Get up close and personal with alligators, eagles, bobcats, otters, armadillos and more in this week long adventure through North and South America.   |
---
5-Day Camps • $255 Members | $296 Non-Members
4-Day Camps • $204 Members | $237 Non-Members
3-Day Camps • $153 Members | $178 Non-Members
| CAMP | DATE | THEME |
| --- | --- | --- |
| Week 1 • Group 1 | May 30 - June 2 | Have you ever met a Matschie tree kangaroo or a Humboldt penguin? This camp will take a look at the unique animals that call the Lincoln Children's Zoo home.  Campers will help create enrichment for their new friends and even watch them enjoy it at the end of this fun and creative week!  |
| Week 1 • Group 2 | May 30 - June 2 | Have you ever met a Matschie tree kangaroo or a Humboldt penguin? This camp will take a look at the unique animals that call the Lincoln Children's Zoo home.  Campers will help create enrichment for their new friends and even watch them enjoy it at the end of this fun and creative week!  |
| Week 2 • Group 1 | June 5 - 9 | Campers will center their study around animals across the Americas! Get up close and personal with alligators, eagles, bobcats, otters, armadillos and more in this week long adventure through North and South America.   |
| Week 2 • Group 2 | June 5 - 9 | Campers will center their study around animals across the Americas! Get up close and personal with alligators, eagles, bobcats, otters, armadillos and more in this week long adventure through North and South America.   |
| Week 3 • Group 1 | June 12 - 16 | Spend the week focusing on baby animals, camouflage, adaptations, habitats and animal diets in this week long camp.   |
| Week 3 • Group 2 | June 12 - 16 | Spend the week focusing on baby animals, camouflage, adaptations, habitats and animal diets in this week long camp.   |
| Week 4 • Group 1 | June 19 - 23 | Have you ever met a Matschie tree kangaroo or a Humboldt penguin? This camp will take a look at the unique animals that call the Lincoln Children's Zoo home.  Campers will help create enrichment for their new friends and even watch them enjoy it at the end of this fun and creative week!  |
| Week 4 • Group 2 | June 19 - 23 | Have you ever met a Matschie tree kangaroo or a Humboldt penguin? This camp will take a look at the unique animals that call the Lincoln Children's Zoo home.  Campers will help create enrichment for their new friends and even watch them enjoy it at the end of this fun and creative week!  |
| Week 5 • Group 1 | June 26 - 30 | Campers will center their study around animals across the Americas! Get up close and personal with alligators, eagles, bobcats, otters, armadillos and more in this week long adventure through North and South America.   |
| Week 5 • Group 2 | June 26 - 30 | Campers will center their study around animals across the Americas! Get up close and personal with alligators, eagles, bobcats, otters, armadillos and more in this week long adventure through North and South America.   |
| Week 6 • Group 1 | July 5 - 7 | Spend the week focusing on baby animals, camouflage, adaptations, habitats and animal diets in this week long camp.   |
| Week 6 • Group 2 | July 5 - 7 | Spend the week focusing on baby animals, camouflage, adaptations, habitats and animal diets in this week long camp.   |
| Week 7 • Group 1 | July 10 - 14 | Have you ever met a Matschie tree kangaroo or a Humboldt penguin? This camp will take a look at the unique animals that call the Lincoln Children's Zoo home.  Campers will help create enrichment for their new friends and even watch them enjoy it at the end of this fun and creative week!  |
| Week 7 • Group 2 | July 10 -14 | Have you ever met a Matschie tree kangaroo or a Humboldt penguin? This camp will take a look at the unique animals that call the Lincoln Children's Zoo home.  Campers will help create enrichment for their new friends and even watch them enjoy it at the end of this fun and creative week!  |
| Week 8 • Group 1 | July 17 - 21 | Campers will center their study around animals across the Americas! Get up close and personal with alligators, eagles, bobcats, otters, armadillos and more in this week long adventure through North and South America.   |
| Week 8 • Group 2 | July 17 - 21 | Campers will center their study around animals across the Americas! Get up close and personal with alligators, eagles, bobcats, otters, armadillos and more in this week long adventure through North and South America.   |
| Week 9 • Group 1 | July 24 - 28 | Spend the week focusing on baby animals, camouflage, adaptations, habitats and animal diets in this week long camp.   |
| Week 9 • Group 2 | July 24 - 28 | Spend the week focusing on baby animals, camouflage, adaptations, habitats and animal diets in this week long camp.   |
| Week 10 • Group 1 | July 31 - Aug. 4 | Have you ever met a Matschie tree kangaroo or a Humboldt penguin? This camp will take a look at the unique animals that call the Lincoln Children's Zoo home.  Campers will help create enrichment for their new friends and even watch them enjoy it at the end of this fun and creative week!  |
| Week 10 • Group 2 | July 24 - 28 | Have you ever met a Matschie tree kangaroo or a Humboldt penguin? This camp will take a look at the unique animals that call the Lincoln Children's Zoo home.  Campers will help create enrichment for their new friends and even watch them enjoy it at the end of this fun and creative week!  |
---
5-Day Camps • $255 Members | $296 Non-Members
4-Day Camps • $204 Members | $237 Non-Members
3-Day Camps • $153 Members | $178 Non-Members
| 8:30 a.m. - 4:30 p.m. | DATE | THEME |
| --- | --- | --- |
| Week 1 | May 30 - June 2 | Want the inside scoop on how the Zoo functions on a daily basis? During this week-long camp, hangout with zookeepers while they introduce you to their furry and feathered friends, learn more about conservation and animal care and get a behind-the-scenes look at daily Zoo life. |
| Week 2 | June 5 - 9 | Want the inside scoop on how the Zoo functions on a daily basis? During this week-long camp, hangout with zookeepers while they introduce you to their furry and feathered friends, learn more about conservation and animal care and get a behind-the-scenes look at daily Zoo life. |
| Week 3 | June 12 - 16 | Want the inside scoop on how the Zoo functions on a daily basis? During this week-long camp, hangout with zookeepers while they introduce you to their furry and feathered friends, learn more about conservation and animal care and get a behind-the-scenes look at daily Zoo life. |
| Week 4 | June 19 - 23 | Want the inside scoop on how the Zoo functions on a daily basis? During this week-long camp, hangout with zookeepers while they introduce you to their furry and feathered friends, learn more about conservation and animal care and get a behind-the-scenes look at daily Zoo life. |
| Week 5 | June 26 - 30 | Want the inside scoop on how the Zoo functions on a daily basis? During this week-long camp, hangout with zookeepers while they introduce you to their furry and feathered friends, learn more about conservation and animal care and get a behind-the-scenes look at daily Zoo life. |
| Week 6 | July 5 - 7 | Want the inside scoop on how the Zoo functions on a daily basis? During this week-long camp, hangout with zookeepers while they introduce you to their furry and feathered friends, learn more about conservation and animal care and get a behind-the-scenes look at daily Zoo life. |
| Week 7 | July 10 - 14 | Want the inside scoop on how the Zoo functions on a daily basis? During this week-long camp, hangout with zookeepers while they introduce you to their furry and feathered friends, learn more about conservation and animal care and get a behind-the-scenes look at daily Zoo life. |
| Week 8 | July 17 - 21 | Want the inside scoop on how the Zoo functions on a daily basis? During this week-long camp, hangout with zookeepers while they introduce you to their furry and feathered friends, learn more about conservation and animal care and get a behind-the-scenes look at daily Zoo life. |
| Week 9 | July 24 - 28 | Want the inside scoop on how the Zoo functions on a daily basis? During this week-long camp, hangout with zookeepers while they introduce you to their furry and feathered friends, learn more about conservation and animal care and get a behind-the-scenes look at daily Zoo life. |
| Week 10 | July 31 - Aug. 4 | Want the inside scoop on how the Zoo functions on a daily basis? During this week-long camp, hangout with zookeepers while they introduce you to their furry and feathered friends, learn more about conservation and animal care and get a behind-the-scenes look at daily Zoo life. |