Birthday Parties
The wildest birthday party location is Lincoln Children's Zoo.
1. Select a date
2. Choose your room and time
3. Reserve your party
Birthday Party Packages
Party packages are for up to 12 children and two adult chaperones.
Additional children may be added to each group as the room allows. Parties are held in the Safari Room (a jungle themed air-conditioned room) or the Crooked House (not air-conditioned).
Members receive 10% off on all party packages
All packages include admission for the entire day and use of party room for 90 minutes.
Basic - $160 now $145
• 14 train rides (12 child and 2 adult tickets)
• Safari Room or Crooked House
• Zoo welcome sign for birthday child
• Two pitchers of choice of soda, lemonade or fruit punch
• Zoo wagon to transport gifts
• Zoo provides all setup and cleanup
• Additional guests - $9 per person
Deluxe - $195 now $175
• All the benefits of the Basic
• Safari Room or Crooked House
• Unlimited train rides
• 12 Horse Rides
• Ice-cream sundae bar
• Special birthday present from the Zoo
• Additional guests - $12 per person; $9 per adult (no horseback ride for adult)
Ultimate - $225 Valued at $350 now $200
• All the benefits of the Deluxe
• Safari Room or Crooked House
• An amazing critter visit and chat presented by our Critter Encounter department
• Treat bags for 12 (Zoo goodies and coupons valued over $6 per bag)
• Additional guests - $15 per person; $12 per adult (no horseback ride for adult)
Go to the bottom of the page to print your FREE Lincoln Children's Zoo birthday party invitations.
---
Reserve Your Party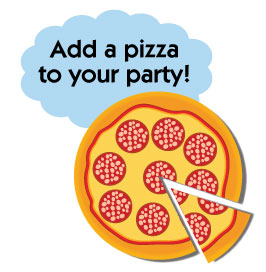 Add a fresh pizza from the Safari Cafe. Choose from cheese, pepperoni and sausage. Add pizza after selecting your party date and time. (8 slices per pizza for $16)
---
Birthday Party FAQ
Party Rooms and Times
Scheduling a party at the Zoo provides admission to the Zoo for the entire day. Parties are held for 90 minutes in a designated air conditioned space or the historic Crooked House. To schedule a party on Monday though Friday please contact the zoo at 402.475.6741.
What the Zoo Provides
Let us do the set-up and the clean-up. The tableware - tablecloth, napkins, spoons, and cups will be provided and items as listed for chosen party package. If bringing your own cake, you must bring your own forks and plates. However, those items may be purchased from the Safari Cafe if needed.
Food
No outside food, except cake, is allowed for birthday parties. Need lunch for your group? Pizza is available for $16 per pizza. (8 slices per pizza) Other lunch options are available. Call in advance for options and prices.
How to Reserve a Party
A $50 non-refundable deposit is needed to secure your date, time and room. Remaining balance due at time of entry into the Zoo on party day. Parties must be cancelled 24 hours in advance for deposit to be used toward rescheduled party time. Sales tax is additional. Party spots fill quickly, so make your reservations today by calling 475.6741, ext. 120, or email questions to our visitor services department.
Weather
Weather conditions normally do not affect Zoo operations. The train may not operate when lighting occurs.
Note: For the safety of our animals, no candles, balloons, or piñatas of any kind are allowed.
Party Invitations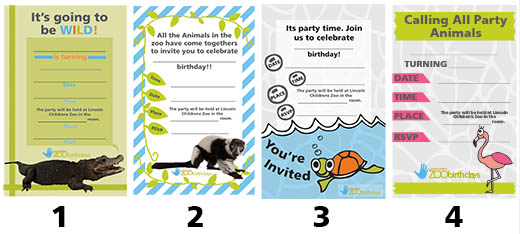 Click to download the invitation of your choice