Expedition: Ecuador & Galapagos Islands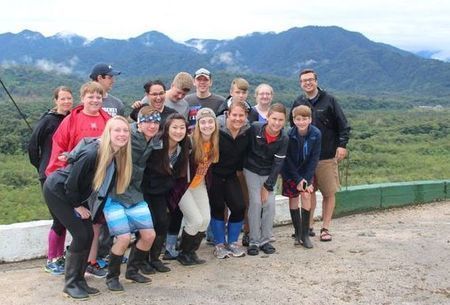 July 25 - August 4, 2022
Spend your summer immersed in a classroom with no walls! One where nature is at your finger tips and adventure is around every corner.
Expedition: Ecuador & Galapagos Islands, through Adventures by Lincoln Children's Zoo, is a 11-day trek assisting in conservation work at Galapagos National Park, hikes through the Amazon Jungle, bike tours of the Andes Mountains, snorkeling and more!
This all-inclusive trip is led by professional guides along side staff of Lincoln Children's Zoo.
Itinerary
| Date | Location | Activity |
| --- | --- | --- |
| July 25 | Nebraska | Your adventure begins as we meet at the Lincoln Children's Zoo and travel Omaha. You will board your flight to Atlanta, where you continue on to Quito, Ecuador. |
| July 26 | Banos | Your first day in Ecuador will include traveling form Quito to La Floresta and an  afternoon spent on a  zipline tour through the Andes before returning to the hotel for dinner and an evening of group games and activities. |
| July 27 | Banos | Get ready to wake up bright an early for a full day on a jungle tour! |
| July 28 | Banos | The adventure continues on a guided bike tour of waterfalls and a hike to El Paillon del Diablo before lunch and an afternoon of souvenir shopping and exploration in Banos. |
| July 29 | Banos/Quito | On your final day in Banos, you will spend the morning canyoning and the afternoon at Casa del Arbol and the Condor before traveling back to Quito for the evening. |
| July 30 | Quito/Puerto Ayora | Time to travel to the Galapagos Islands! The morning will be spent traveling by plane from Quito to Puerto Ayora on the Galapagos Islands. After checking into Villa Laguna you will spend the afternoon at German Beach on a walking tour. |
| July 31 | Galapagos National Park | No Adventures trip is complete without volunteering your time to conservation organizations! Spend the day at Galapagos National Park working on a variety of projects. Work hard, make a positive impact! |
| August 1 | Puerto Ayora | Another full day exploring the Galapagos Islands! You'll spend the day on a highlands day tour visiting lava tunnels and Garapatero Beach in the morning and a ranch tour before returning to Villa Laguna for dinner and exploration. |
| August 2 | Puerto Ayora | A day at sea! On the last day of you Adventures enjoy a relaxing day on a yacht off the Galapagos Islands. |
| August 3 | Puerto Ayora/Quito | Your travel back to Nebraska will start with a flight from the Galapagos Islands back to Quito before an overnight flight to Atlanta. |
| August 4 | Nebraska | You'll arrive in Omaha in the morning and travel back to Lincoln Children's Zoo to conclude you Adventure trip. |
Cost
| Trip | Date | Ages | Cost | |
| --- | --- | --- | --- | --- |
| Expedition: Ecuador & Galapagos | July 25 - August 4, 2022 | 15 - 21 | $4,895 | SOLD OUT |

Price includes international flight, all accommodations, 3 meals/day, ground transportation, group activity and entry fees, travel insurance, donations to research projects, taxes and tips. **Price excludes souvenirs and other shopping.
For questions and more information about the trip email Aimee Johns or call 402-475-6741 ext. 130
---
COVID and Cancellation Policy
At this time, there is a travel advisory in place for Ecuador due to a Covid-19 spike in January. We anticipate that Covid-19 cases will drop in the coming weeks and months and are pressing forward with our travel plans. As the trip draws nearer, we will evaluate the situation and make the necessary adjustments or cancellation of the trip. Lincoln Children's Zoo will not travel if the advisory remains at a level 4 and will issue full refunds for the trip.
Lincoln Children's Zoo requires all travelers and staff to be fully vaccinated against COVID-19 before travel with limited exceptions. However, we do allow exemptions for medical and religious reasons.  We may also need proof of a negative COVID test taken within 48 hours of travel. The purpose of this policy is to help protect our travelers, employees, in-country partners and the people who live and work in the areas we travel. As the pandemic evolves, it is also clear that countries may require vaccination for entry or to bypass a possible quarantine.
We will continue following CDC and local health institutions for best practices for keeping travelers as safe and healthy as possible.
Travel insurance is not required, however it is recommended as this will make your trip refundable if the participant gets sick or encounters unforeseen circumstances and is not able to attend. For more information: https://www.volunteercard.com/understanding-travel-insurance/
---