Expedition: South Africa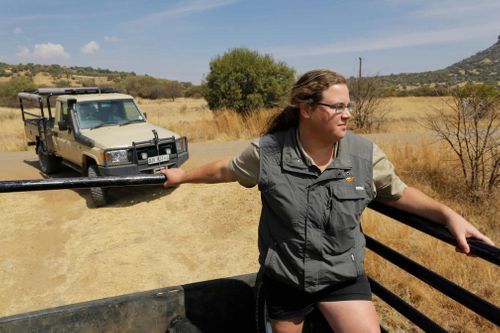 Spend your summer immersed in a classroom with no walls! One where nature is at your finger tips and adventure is around every corner.
South Africa, an expedition through Adventures by Lincoln Children's Zoo is an 10-day trek exploring and staying at the Entabeni Game Reserve, touring Johannesburg, working with the Zoo's veterinarian colleague Dr. Zoe, assisting the team at the Rhino Orphanage and more!
This all-inclusive trip is led by professional guides along side staff of Lincoln Children's Zoo.
Participants will have the opportunity to meet and work with Dr. Zoe Glyphis, a pioneer in veterinary medicine, research and conservation in South Africa. Dr. Zoe is a member of Saving the Survivors, a ground-breaking team of vets that race to the scene and treat victims of poaching.
Itinerary
Date
Location
Activity
July 17
Nebraska
Your adventure begins as we meet at the Lincoln Children's Zoo and travel Omaha. You will board your flight to Atlanta, where you then travel on an overnight flight to Johannesburg
July 18
Johannesburg
Late this afternoon you will arrive in Johannesburg and will travel to the Zebra Country Lodge, located just north of Pretoria, the administrative capitol of South Africa. Tonight, enjoy a welcome dinner at your lodge. (Overnight Zebra Country Lodge)
July 19
Zebra Country Lodge
Work with one of the Lincoln Children's Zoo's exceptional veterinarian colleague, Dr. Zoe. Dr. Zoe is a foremost expert in field and leads the charge on medicine and research. (Overnight Zebra Country Lodge)
July 20
Entabeni Game Reserve
You will begin your safari adventure as you drive to the 29,650-acre Entabeni Game Reserve, situated in the magnificent, Waterberg. This unique area offers spectacular scenery consisting of grasslands surrounded by mountains, a mile-long lake, a 2000-foot escarpment, diverse wildlife and 'Big Five' game viewing (lion, leopard, buffalo, rhino and elephant.) At Entabeni, which means "beyond comparison", the emphasis is on gaining an insight into the wonders of nature. Each well-trained ranger will share his knowledge of the local flora and fauna, as well as cultural heritage, history and geology. We will arrive in time to enjoy lunch and embark on our late afternoon/evening game drive. (Overnight Entabeni)
July 21
Entabeni Game Reserve
On your second day at Entabeni, you'll set out on a morning game drive, then tour the Legend Wildlife & Cultural Centre. This unique centre is situated at Legend Golf & Safari Resort and facilitates Environmental Education and Endangered Wildlife Research. The centre also offers conservation programs and currently manages a white lion and disease-free buffalo breeding project. All the species resident at the project are recognised within the IUCN Red List of Threatened Species as being most in need of conservation attention if global extinction rates are to be reduced. Learn more about the majestic white lions, why they are endangered and the breeding project itself as you view them on their purpose-built island in the scenic bush. You will also get to meet "Mapimpan", the lively youngster left to die at four days old after a violent attack by a dominant male lion at Entabeni Safari Conservancy. This inspirational tale will leave you in awe of this lion with the heart of a survivor. Come face to face with some of Africa's most unpredictable, dangerous yet majestic animals – the disease-free buffalo. Watch them feed from the safety of a game viewing vehicle while you learn all about why the buffalo has earned its place as one of the famous Big 5 and what this special project entails.
This afternoon experience the thrill of the Buffalo Drive. You'll view the Cape buffalo up close from the safety of the camp vehicle. Finish your day with a game drive in the reserve at Mpumalanga. Along with the "Big 5," encounter multitudes of species of reptiles, and birdlife, while experiencing the sights and sounds of the bush.
July 22
Entabeni Game Reserve
Enjoy the morning game drive, breakfast and some free time. In the afternoon we will set out on a bush walk with our guide to get closer with South African flora and fauna. (Overnight Entabeni)
July 23
Entabeni Game Reserve
Last full day game drive experience. Soak up the big five and all the amazing creatures that call South Africa home. In the evening we go on the hunt for the Southern Cross and take in the beauty of the star-studded skies. (Overnight Entabeni)
July 24
Johannesburg
First half of the day will be spent working with Dr. Zoe on wildlife emergencies. Later in the day we will travel back to Johannesburg. (Overnight Johannesburg)
July 25
Johannesburg
Experience the culture of Johannesburg before boarding your overnight flight back to the U.S. (Overnight Flight)
July 26
Nebraska
Arrive in the U.S. today and travel back to Lincoln
Cost
Date: July 17 - 26, 2020
Cost: $4,895 | Deposit: $479.50
Ages: 15 - 21
Price includes international flight, all accommodations, 3 meals/day, ground transportation, group activity and entry fees, travel insurance, donations to research projects, taxes and tips. **price excludes souvenirs and other shopping.
For more information about the trip email Aimee Johns or call 402.475.6741 ext. 130.
| Trip | Date | |
| --- | --- | --- |
| Expedition: South Africa | July 17 - 26 | Register |