Help Us Name Our Tree Kangaroo Joey!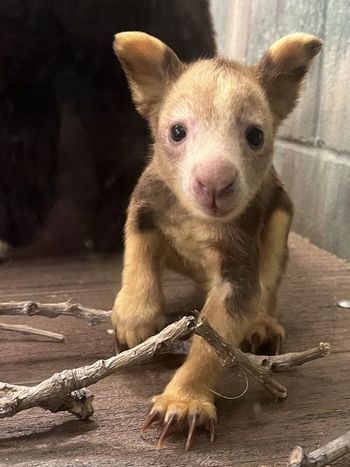 The male joey was born around May 3, 2022 to mom, Judie, and dad, Bexley. The joey is growing fast and spends time outside the pouch exploring his surroundings. Matschie's tree kangaroos are an endangered species native to Papua New Guinea. Our tree kangaroo care team has selected three names with relevance to tree kangaroo conservation and their native habitat.
Cast your vote below and help us chose the joey's name! Voting will be open for one week and the name with be announced on Dec. 15.
Tobai (Toe-by)
The local name for the area near the current tree kangaroo research site in Uruwa.
Yapem (Yap-em) (emphasis on first syllable)
Name of breathtaking waterfall in YUS Conservation Area, located in Yawan.
Kapul (Ca-pull) (emphasis on second syllable)
Generic name for marsupials in Tok Pisin, a language spoken in Papua New Guinea.
Voting has closed. Thanks for voting.