Zoo Hours
Regular Daily Hours
The Zoo is closed for the 2016 year. 

For information about off-season events click here.
For information about off-season education programs click here. 
Click here to see admission prices.
---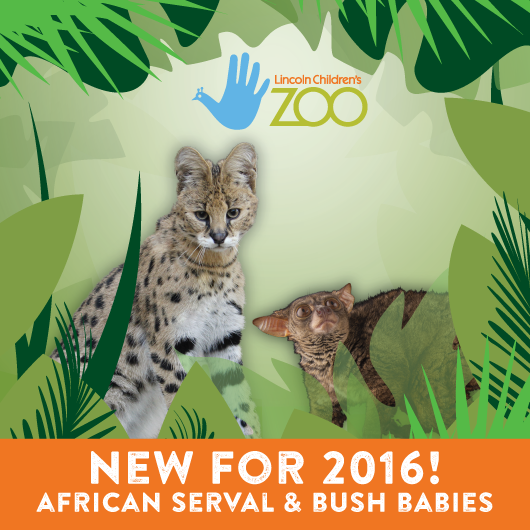 New Animals!
African Serval & Northern Galago Bush Babies
Come visit Johnny the serval and the bush babies, Dohkani and Bear! Johnny is working with his zookeepers to prepare for his big show debut later this year, and the bush babies can be found in the Animal Kingdom. Stay tuned to our Facebook, Instagram, and Twitter pages for more updates on the newest additions to the Zoo family!
Also new this year:
 - 3 Cuban Rock Iguanas
 - "Legolas" the European legless lizard
 - Tiger salamander
 - New Critter Outpost animals
---
Zoo Contact Information
The Lincoln Children's Zoo is located at:
1222 South 27th Street
Lincoln, NE 68502
Phone: 402.475.6741
Fax: 402.475.6742
---
Member and/or Ticket holder agree their likeness may be used for promotional use.