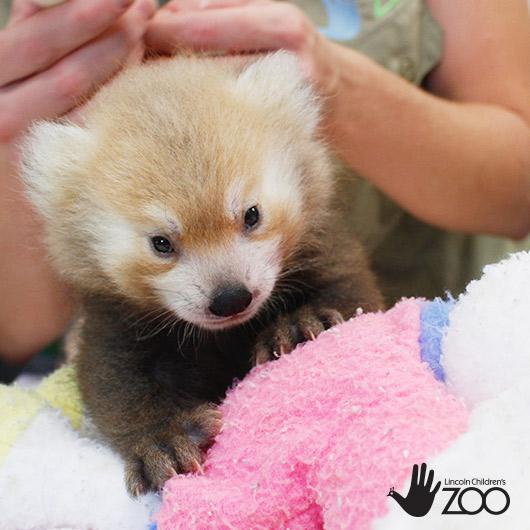 New Red Panda Cub being
hand-raised at Lincoln Children's Zoo
A rare red panda cub was recently born at the Zoo. Baby Lincoln, as zookeepers are calling him, is currently being hand raised because his mother is unable to care for him. He is one of only four red panda cubs in the country being hand raised. Like his brothers, Rusty and Wayne, he will eventually move to another zoo. Zookeepers named him Lincoln to represent the Zoo and state of Nebraska when he moves to a new home in the future.
UPDATE: As you may have heard, shortly after Lincoln the red panda's birth, zookeepers noticed his mother was unable to care for him. This discovery led to baby Lincoln being raised by hand. Over the past seven months baby Lincoln has grown to be a strong and healthy red panda and is now ready to move to a new home. He will be moving to a zoo in Tennessee where he will be able to live and play with other red pandas.
Photos of baby Lincoln
More photos can be seen on the Zoo's Facebook page.
---
How you can help
Help support Lincoln and the other red pandas at Lincoln Children's Zoo
by adopting a Zoo animal today!