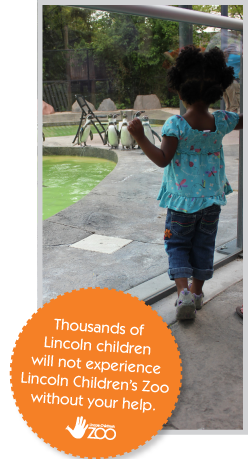 For nearly 50 years, Lincoln Children's Zoo has been a place for children to experience learning firsthand. Unfortunately, many families in Lincoln do not have the financial means to visit the Zoo.
Over 10 years ago, Children at the Zoo (CATZ) was created as a way to help families with limited finances. Each year Lincoln Children's Zoo partners with more than 30 local human service agencies and schools to provide free admission.
The number of families being impacted by CATZ is growing each year. Five years ago, 6,000 admission passes were distributed in the community and this year that number will more than triple to over 20,000. In order to grant these wishes, the Zoo needs your help.
Lincoln Children's Zoo receives no government funding. Help families and children in need today with your tax-deductible donation.
With gratitude,

John Chapo
President/CEO
Click here to submit your CATZ ticket request. 
Help local children and make your donation by clicking here.