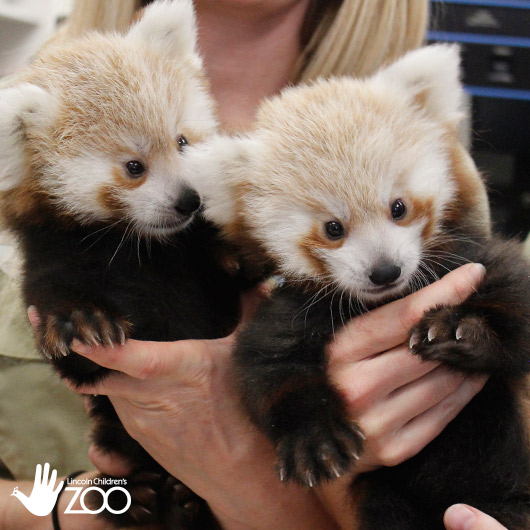 Baby Red Panda Twins being Hand-raised by Zookeepers at Lincoln Children's Zoo
---
December 18, 2014
Zookeepers gave Carson and Willa their Christmas gifts early this year and it's safe to say they loved them! Both twins are growing fast and doing great. They recently moved into their home on exhibit and are loving climbing, pouncing and playing in the snow!
October 14, 2014
World, Meet Carson and Willa the red panda twins!
We asked for your help in naming our red panda twins and the response was amazing! Over 2,000 entries were submitted from as far away as Maine and California. The winning names, Carson & Willa, were submitted via Facebook by Stacey Stewart from Lincoln, NE. Stacey named the cubs after Nebraska icons Johnny Carson & Willa Cather. 

A huge thank you to the thousands of name entries submitted and endless love you all have given these two! With your help, Carson and Willa were featured across the nation on TIME.com, USA Today, ABC News, Nightline, Buzzfeed and over 25 national newspapers!
September 12, 2014
Lincoln Children's Zoo is excited to announce two new additions to the Zoo family! Red panda twins, a boy and girl, were born on July 1. The cubs, who are being hand raised because their mother needed help taking care of them, are doing great!
The female cub has a stuffed animal frog who she is friends with and loves napping on. The male cub is full of energy and loves to pick on his sister until she wrestles back and he runs away. The male will move to another zoo in the spring when he is approximately 10 months old. This is the same time frame they instinctively leave their mother and siblings in the wild to find mates of their own. The female cub will live at the Zoo for the next year
Photos of the Twins
More photos can be seen on the Zoo's Facebook and Instagram pages.
---
How you can help
Help support the twins and the other red pandas at Lincoln Children's Zoo
by adopting a Zoo animal today!